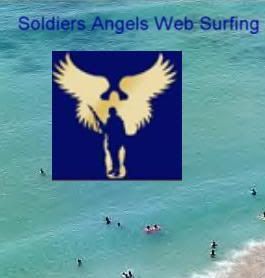 Welcome to the first 2009 edition of Soldiers Angels Web Surfing, my (mostly) weekly 'surf' of the web for news by, and about,
Soldiers Angels
When I first started doing this weekly post (back in March 2007?:),there wasn't the
BlogNetNews.com/Soldiers Angels
link available, which is where you can get all the latest on posts by some of the major Soldiers Angels bloggers.
I highlight some posts from that link (which is where you should be going for your 'Soldiers Angels' news!)but I also come across other posts that I like to share….so, without further editorial comment (except to say "Happy New Year!" and "thank you", for going along for the 'surf':) let's get to my post!
Christmas is over, but this story was too cool not to share, from the Crescenta Valley Sun
Christmas Spirit Shines Brightly
And this was a Christmas message on a new-to-me Angel blog called
Quilting with a Marmalade Cat
Merry Christmas
Time to be thinking of Valentine's Day, and
Mardi Gras
!:)
For Valentine's day, from MLive.com, kudos to this Michigan Library system!
Create Valentines for troops at Bay County Library System
and for Mardi Gras, Greta is on the job again here!
Soldiers Angels Louisiana:Operation Overseas Mardi Gras 2009
In other news,
Soldiers Angels Network
links to this Stars and Stripes article
Theft of $8,000 donation was blessing in disguise for mother of fallen soldier by Steve Mraz
Soldiers Angels Network
has also started a cool new daily post called
Soldiers Angels Photo of the Day
(To see previous day's photo's, and other just generally great posts, check out the whole blog!
Soldiers Angels Network
)
Ladies of Liberty
did a
Soldiers Angels Ladies of Liberty 2008 recap
that I know you won't want to miss!
Soldiers Angels Texas
had a great story here
Florence Elementary School in Southlake Texas "Pays It Forward"
And lastly, with over 700 soldiers waiting for 'adoption' right now? It's nice to see posts like this, on
Mommy Needs a Time-Out
Make a Soldiers Day
(and check her comments, she got
SuperMommy
to adopt already,too! Way to go!:)
Well, that's the 'surf' for this first full week in 2009. Thanks for stopping by to go on this trip with me:)
-------------------------
This post is cross-posted, as usual, on
Hooah Wife and Friends
which is a great blog, and great bunch of folks!
and also on my
MySpace blog