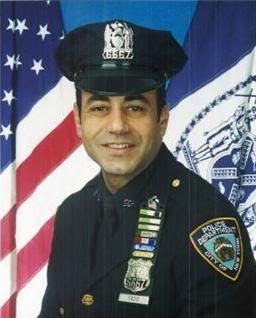 Name : Fazio, Robert
Rank: P.O.Shield #: 6667 NYPD
Command: 013 Pct.
Date of Death: 2001-09-11
Cause of Death: World Trade Center Attack
Police Officer Robert Fazio, 41, was appointed to the NYPD on July 16 1984, and began his career on patrol in Neighborhood Stabilization Unit 18. Prior to becoming a police officer, he worked as an auto mechanic and an electrician. Besides the 13 Precinct, he also worked in Patrol Borough Manhattan South, the Technical Assistance Response Unit(TARU), and the Property Clerk Division. At the time of his death he was enrolled at St. Joseph's College, where he was taking classes related to law enforcement.
At 41, Robert Fazio Jr. was still single. People would ask him when he was going to marry. But the pressure of society's conventions, said his sister, Carole Lovero, could not affect his decisions."He was a happy person, he was happy within himself," she said. "He would have gotten married if he had found the right person, but he was happy doing what he was doing."
What he was doing, outside of his job as a patrolman for the New York Police Department, was working on motorcycles, cars, boats and houses for anybody who needed a hand. "Half my neighbors, he fixed their cars," said Officer Fazio's father, Robert Sr.
Shortly after he got his driver's license, Robert Fazio Jr. could be seen on the weekend in front of the family's house in South Hempstead, on Long Island, hoisting engines in and out of cars with the help of a sturdy tree limb.
He had less than three years to go until retirement, his father said, and planned on setting up a motorcycle and car repair shop somewhere near his home in Freeport, N.Y., with a friend from junior high school, Gino Lanza. But though he had no children of his own, he spent as much time as he could baby-sitting for his nephew, Michael Lovero, and friends' children, who nicknamed him the "Tickle Monster."
Fazio was on his regular tour with another 13th Precinct officer, Moira Smith, when they spotted the first plane hitting the towers. Smith called in the information, and then she and Fazio headed back to the nearby precinct to interview witnesses. Within the hour, they were at the site of the World Trade Center, where the two officers were last seen before the buildings collapsed.
To fellow officers, Fazio was an example; he often embraced rookie cops and took the time to teach them the ropes.
PO Fazio is survied by his parents Felicia and Robert; sister Carole; brother-in-law Marc; and nephews Joseph and Michael.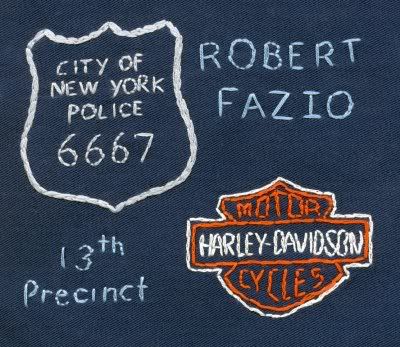 (
patch created by a volunteer for the
CubScout Pack 233 Memorial American Flag Quilt
)
His sister Carole created a beautiful online memorial for Robert Fazio
HERE
and there are memories from family and friends posted
here
and in his
Legacy.com
online guestbook
Here
------------------
This post is part of the
Project 2,996
blogburst, which was started in 2006 to remember those who lost their lives on September 11,2001.
To the family and friends of Robert Fazio,Jr......... learning about him made me wish I'd had the chance to meet him.
I carry you all now in my thoughts and prayers, and will carry Robert's name in my heart each year on September 11th.
(
patch from Barnum Woods Elementary School Quilt
)