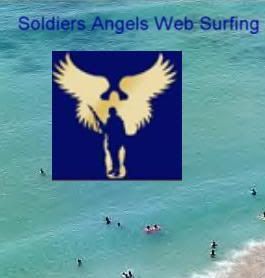 Another 'surf' of the web, for news by, and about
Soldiers Angels
Times are tough, on that I believe we can all agree.
As I'm posting this, the number of soldiers listed as waiting for adoption on the main website is at 1,366.
Never since I joined Soldiers Angels back in '05 has there been such a backlog of soldiers waiting to be adopted.
Angels are stepping up with suggestions for how to support our troops in these tough economic times, however.........
Mike D's Army Mom
(among many others) had a post about
Supporting troops on a budget
and
Soldiers Angels Arkansas
posted
The $10.00 Box
and you don't have to do it alone......
Soldiers Angels Network
thanked a group of middle schoolers for their efforts to support the troops
THANKS to Sartaria Middle School
get a church or school group involved in adopting one of the 1,366 who are waiting on the website:)
If you can't send a package right now? 'Band' together with others to make blankets, as
View From the 8th Floor
posts here
Mark Your Calendar! Blanket Making Bash 2009!
While the great need right now is for
adoption
......if you just feel like you can't make that commitment right now due to budgetary concerns? there are so many other ways that you can at least make a small contribution to supporting the troops through Soldiers Angels, one way is to sign up to join the
Letter Writing Team
This is actually how I first came to Soldiers Angels, is via the LWT, as we call it :) I was unemployed for 5 months during '05, and didn't feel I could commit to one care package a month. But I Did feel I could commit to at least sending a Letter........and although the LWT says to never ExPect to get a letter in return? Once a few soldiers Did write me back, and then I wrote them Again.....well, somehow I found a way to send small items to several of them.
One of them just asked for writing paper and pens, and a trip to the Dollar Store plus a small sized padded mailing package fulfilled his request:) While that may not be the first thing you think of when you think 'care package'? That's what he asked for, and I got together the coins to make it happen............and found out in the process that I Could send a 'care package', it didn't have to be elaborate and cost a bundle!
As so many Angels pass on? be Creative :) Another soldier who returned a letter jokingly said that he and those with him all missed going to ....Wal Mart,lol. While it wasn't a 'care package' per se? I have a color printer , so I printed out a picture of a Wal Mart from his hometown and sent it on it's way in my next letter. A very small thing, but it made someone smile:)
The possibilities are endless, for you to creatively come up with ideas yourself.
If you're not a 'letter writer' , but perhaps enjoy sending cards for all occasions? Soldiers Angels has the
Cards Plus Team
Are you 'crafty'? There's all kinds of possibilites for crafters to contribute to supporting the troops on the main
Soldiers Angels website
check them out!
No matter how you come to Soldiers Angels ? once you get started, and start making connections, I believe that the idea of sending a 'care package' will not seem like such a burdensome commitment after awhile. Here in my own household, although my husband has been out of work for awhile, we save all our change in a jar, and then were able to send two care packages this past month.....it's amazing, how those nickels and dimes add up!
What kind of difference can you make? even if you feel you Can't commit to sending a care package a month right now?
Well, I recently heard from a CTL (Community Team Leader) who had held a donation drive, and been somewhat discouraged as she was packing up at the end of the day.....she said "I know school is starting,etc, and times are tough all around..." but she had been hopeful more folks would donate items to send in care packages, or tip a few coins in the jars.
And as she was packing up, she was approached by a woman who wanted to give her a hug....the woman's son had been injured in Iraq several years ago, and Soldiers Angels had supported him. After she shared her story with the CTL (and they both shed some tears together) she announced that she wanted to Join Soldiers Angels, and give back to others, now that her son was healing and getting on with his life.
Full circle. The mother of a soldier who was a recipient of caring by Angels decides to become an Angel for someone else herself:)
A blanket here for a wounded soldier, a letter or card there.........
and, as our founder Patti Patton-Bader says........
"
These little ripples of kindness add up to oceans of greatness"
Whether you can commit to 'adopting' today? or just want to check out the website for a way you Can contribute to supporting our troops?
Please go by the
Soldiers Angels website
and see if you can become involved in starting a 'ripple' today!
That's the surf!