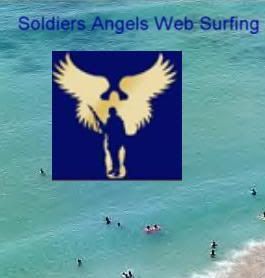 Another 'surf' of the web, for news by, and about,
Soldiers Angels
Over at
Angel Wings and Heartstrings
, check out
Soldiers Angels-Blankets of Hope
Soldiers Angels Washington
posted
WTB Soldiers Enjoy the View
For more about helping our Wounded Warriors?
Soldiers Angels-Wounded Warrior Support
had a post about
Southern Mississippi Angels
From the
Photo Reporter
comes this editorial
Wanted: Volunteer Portrait Photographers for Our Soldiers
What are you doing Saturday,Aug.1 ? If you live in PA? you might want to check out
"Little" Sturges
posted at webster107 ....Rock 107 and the
Soldiers Angels Riding Club
are sponsoring.
Short 'surf', but don't be fooled......it's summer, and there's Lots going on out there with Soldiers Angels.
I helped at a Soldiers Angels booth at the
Sweet Dreams Event
in Stuarts Draft,VA last Saturday. Angel Debbie did a Wonderful job of getting everything set up, and several other Angels came from around Virginia to pitch in and help .
(this would be the point in the post where it would be really cool, if I had a picture or two to share of the great table that Debbie put together? but alas.....my broken camera has still not been replaced:(
and it was also cool to come across this short notice locally (to me:) in the
Community Pages of the News-Leader
in Staunton,VA:
Ruritans make blankets for wounded soldiers, veterans:
Kay Connor, a member of the Spottswood-Raphine Ruritan Club Citizenship & Patriotism Committee, introduced the Soldiers' Angels Foundation's Blankets of Hope and Blankets of Gratitude projects to the club after she spent 300 hours making blankets for the projects. Other Ruritans and women in the community pitched in and helped, with the end result of 26 blankets. Fifteen fleece Blankets of Hope were mailed to the Transient Medical Detachment at Landstuhl Regional Medical Center in Germany. The blankets will be given to wounded soldiers for their medi-flight back to the states. Ten knitted and crocheted blankets were delivered to the Veterans Affairs Hospital in Salem for use in wheelchairs by local veterans.
What's going on in Your community for
Soldiers Angels
this summer?
Feel free to send me an email ( to
kasee60@gmail.com
)with a link to a blog post, or a local news article, about what Angels in your area are doing, and I'll be more than happy to post about it.
Or, you can check out some of the many Soldiers Angels blogs that might be local to you:
Soldiers Angels of IL
posts about
State Fair Veterans Day
coming up Aug. 16.
Soldiers Angels Louisiana
writes about several upcoming events in
Angel Help Wanted
(to name just a few)
That's the Surf!