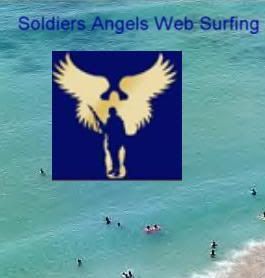 There's a lot going on out there in the blogosphere, of news by, and about
Soldiers Angels
(and you can read about it at
BlogNetNews.com/soldiersangels
)
My 'surf' today really only has one particular post I want to point out.....because I think this gentleman did an Excellent job of reminding people that we.....our country.....still have soldiers serving in a two-front war., and asking us what we are doing about supporting those who are serving?
He's a member of Soldiers Angels that I've featured posts from in the past, and without further editorial comment, I'm going to ask you to go read this post by Glenn Bartley, of
Ballseye's BoomersAre They On Your Mind - Or Have You Forgotten?--------------------
Thank you,Glenn, for saying so passionately and well, so many of the things that I believe and feel,also.
While it might be 'preaching to the choir', for those of you who are reading My post, sending you to Glenn's post? It was a post that I feel was most timely, and reminded us in an excellent way of why we do what we do, to support the troops.
(In an editorial aside? I have no idea Which of the several videos posted about the procession for SFC John Beale it was that Glenn had featured in his post......computer 'issues' on my end.......however, it led me to try and find the video, and there are several posted.....the one I watched was the longest one listed, and moved me to tears
http://www.youtube.com/watch?v=9306gUTzUOc
)
If, after reading Glenn's post? you are motivated to do something to support the troops, and want to learn more about Soldiers Angels ? There are over 800 soldiers listed as waiting for 'adoption' on the main Soldiers Angels website
HERE
and there are so many Other ways to get involved, if '
adoption
' is not quite what you are looking for or can commit to right now.........a recent news article told of how Soldiers Angels helps those who are wounded
Injured soldier at Walter Reed; helped by Soldiers' Angels By Sarah Fay Campbell

The Times-Herald
Are you a baker? Check out
SA Angel Bakers Team B
a new-to-me Angel blog I recently came across. Soldiers Angels supports the troops with
Angel Bakers
(and is anyone else hungry now?after checking out that blog?:)
or, as
Soldiers Angels of Alabama
asks
Can You Write an Extra Letter or Two?
There are 28 listings of ways to get involved under
Teams & Projects-How To Help
on the main
Soldiers Angels website
so please, consider getting involved!
That's the 'surf' !