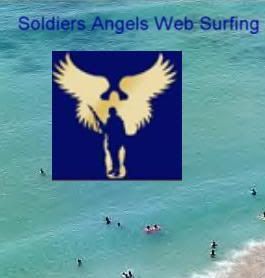 Another random 'surf' of the web for news by, and about,
Soldiers Angels
From
My Trip to BAF
( a milblog I recently stumbled across) comes a post
June bug!
with several nice mentions of Soldiers Angels.
From
Between the Sandhills and the Sea
, Wendy, a ..."Volunteer with Soldiers Angels for 5 years"....has a very good post here called
Truth,Lessons and Deployment
My friend over at
Little Drops....Into the Pool of Life
had a post back on June 27 called
Help For Landstuhl's Wounded Warriors
Soldiers Angels New York
posted
Freedom is not free: Aaron Fairbairn
and for more on that story, the DOD has released Pfc. Aaron Fairbairn's name, and the name of the soldier who was killed along with him , Pfc. Justin A. Casillas ,
Here
Our thoughts and prayers are with both their families, and the Soldiers Angels
Living Legends Team
will be supporting both families.....(as we do for the families of all our Fallen Heroes from Afghanistan and Iraq, on behalf of Soldiers Angels.)
A "new-to-me" Angel online
Dian's Soldiers Angels blankets
and a new blogging Angel had this as her beginning post
Well Hello There
at
Just A Soldier's Angel
That's the surf!