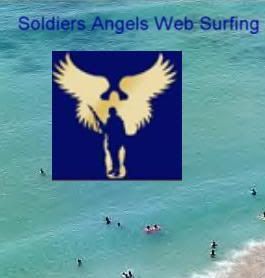 A (very) brief 'surf' of the web for news by, and about,
Soldiers Angels
With Twitter, and so many social network sites like Facebook out there now,
and of course the
Soldiers Angels Blogwire
there are so many ways for you to get news and keep up-to-date about what's going on with
Soldiers Angels
that I'm not really sure there's a need for me to keep posting "Soldiers Angels Web Surfing" any longer?
I've been posting a review of news by and about Soldiers Angels since
May 7, 2007
(on the original incarnation of this blog)
It started out as a (usually) weekly post, and over the years has dwindled due to time constraints and the emergence of sites like Twitter, to basically just a monthly round-up of posts by or about Soldiers Angels that I don't see elsewhere, or just want to highlight.
Kind of hate to give up on it totally,though, since it is kind of 'my baby':)
So I'll keep mulling it over:) and move on to passing on the links I wanted to share with you in today's 'web surf'.........
What do your letters and packages mean to the deployed?
From
SororitySoldier
back in early September
Gratitude
and on
Soldiers Angels Network
wow!(UNCLASSIFIED)
what were Angels doing in September?
Among other things, they were traveling
Soldiers Angels Texas
California Here We Come
and volunteering with wounded warriors and their families
Soldiers Angels-Wounded Warrior Support
What a Weekend!
(
UPDATE:
Soldiers Angels Germany's
story
HERE
led me to the rest of the story on
SA:Wounded Warrior Support
HERE
)
Soldiers Angels Washington
Angels & Warriors-A Great Day!
What's coming up in October?
Oct.3, the
Sale-abration-National Yard Sale
Oct. 10,
the "largest military baby shower" in Las Vegas
Oct. 26, the
Soldiers Angels Day of the Deployed
(from
Soldiers Angels Kansas
)
and I believe Oct. 26th will also be the kick-off for the
Project Valour-IT fundraising competition
That's the 'surf'!