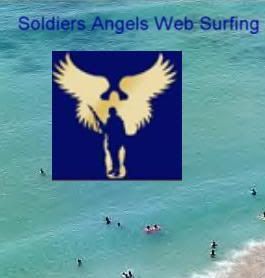 A 'surf' of the web, for news by, and about,
Soldiers Angels
Hurray! for our Young People!
Soldiers Angels~Medical Support
posted at the beginning of August about
Another Eagle Scout Assists the Wounded
and
Soldiers Angels Texas
wrote near the end of the month
Sherman boy spends summer raising donations to help US military
Q & A's
From the
IndianaGazette.com
in Indiana,PA :
MONDAY Q&A: Soldiers abroad get special deliveries from woman's efforts on homefront
and from the
Examiner.com
Q&A: Interview with award-winning volunteer MaryAnn Phillips
"New-to-me" Angel blogs
The Wired Angel
, a great crafter, came to my attention via
this post
and
One Day at a Time
by "a Soldiers' Angel Mom with an adopted Soldier Son who is presently deployed"
That's the 'surf'!
You can always check out the latest Soldiers Angels news on the main website
Here
Until next time........