In January of 2007, I joined the
Soldiers Angels Living Legends Team
, after months of prayer and questioning myself over whether or not I thought I could be a part of this team.
January 2007 was also the month when my fiancee's son
left for Army Basic Training
. The question I vacillated and prayed about for so long was, would I be able to join this team and send out condolence cards to the families of fallen soldiers, while I had someone so close to me who was most likely going to eventually be headed off to war?
As the mother of a currently deployed soldier wrote on a blog that I read....the great "What If?"...cannot help but always be in the back of your mind, when someone you love is in a war zone. Could God give me the Grace to set that "What If?" aside so that I could give support to others?
January 2007 was a brutal month to join the team....there were 83 fallen soldiers that month. As I received email after email from the team leader, with information on the fallen soldiers and where to send the cards, I must admit I went through days of despair,crying out to God "I don't think I can do this after all. This is too much sadness.." I often thought of that old saying "God never gives you more than you can handle " ....I really thought God was pushing the limits pretty heavily that first month I was on the team!
However, I was given the Grace that I needed to continue on the team....through prayer, and also through encouragement from the team leader at the time, who was a very nice lady named Cathy.
A few months after I joined, however, Cathy left that team...she had been the team leader for a number of years. Her leaving took me by surprise (because I'm not ever someone who is 'in the know' about the behind-the-scenes goings on at Soldiers Angels),but she was replaced by someone who was Just as encouraging, and who gave me the strength to continue on with the team,Terri Rager.
"Terri resides in Akron, Ohio with her son, Nate, an Operation Iraqi Freedom II Veteran who was wounded in Iraq in 2004......Terri is a member of Soldiers' Angels where she served as team capt. and then team leader of Living Legends, a team who provide comfort and support to the families of our fallen Heroes and she maintains their
Fallen Hero blog
."
Terri with her son,Nate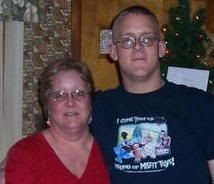 In the months after that, I received loads of encouragement from Terri, as the Living Legends team continued to support the families of our fallen heroes. I also got to 'know' her, as you do with someone whom you email back and forth with so frequently....she was always positive, and always left me feeling uplifted when I felt overwhelmed by sadness for the many families we were trying to support.
She's also,LOL...'devious". (just kidding,Terri:)She'd been researching information on one of our fallen soldiers, and mentioned she was unable to find something. I happened to find the information she needed, and emailed it to her. Faster than the speed of light, an email came back from her..."Thank You" and then..."Have you considered becoming a researcher for the team?" (I should have seen that coming!)
More vacillating on my part. Research is a lot more involved than just sending a card. You are reading any and every article you can find about the fallen hero, and his family, and the pain they are going through over the loss of their loved one. And then you have to distill that information into an email to send out to the team.....but the words you have read are forever engraved in your heart and mind, no matter how much you edit them down into something that will give the team members a glimpse of the life of that fallen hero in just a few paragraphs.
I finally agreed to 'give it a try', and became a researcher. Unbeknownst to me at the time,Terri was in the process of getting ready to step down as Team Leader, so that she could devote more time to her position as Vice President of
Silver Star Families of America
Silver Star Families is a not-for-profit, all volunteer organization founded for the purpose of establishing a Service Flag to honor our wounded military men and women and to provide assistance and support in any and every way possible to our Wounded Armed Forces and their families. The Silver Star Families of America was founded on April 11th 2005, and received 501 c 3 status on December 5th 2005.SSFOA honors Wounded Heroes with our Silver Star Banner and Silver Star Flag. One of our goals is to see that America never forgets the service and sacrifice of our Military, including our Veterans. Every time someone sees the Silver Star Flag, we want them to remember the blood sacrifice made by so many for this great Nation. We would also like them to remember the other wounds that are not so easy to see such as PTSD. SSFOA recognizes ALL wars, past and present.
SSFOA is obviously another very worthy support organization, and Terri,as the mother of a soldier who'd been wounded, was obviously a great choice for them to make as Vice President!
But now I was suddenly emailing with yet Another person, a fellow researcher, and she was getting ready to step into Terri's shoes as Living Legends Team Leader.
Janet Freniere.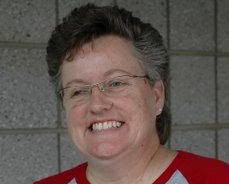 Janet brings to the position the uniqueness of being a 22 year Air Force veteran, as she is a retired Master Sgt . She was Active Duty Air Force from April 1977 to March 1999.
Some highlights from her Air Force career are:
Two tours of duty to Osan Air Base in South Korea

Coordinated and supervised four separate Thunderbird Demonstration Team airshows for USAF Academy graduations

Selected for and received an incentive flight in an F-15 after being picked as the Pacific Air Forces Airfield Management NCO of the Year in 1994
Flew over Mt. McKinley, broke sound barrier
and although I could list Many,Many other highlights from a very long and illustrious career.....This one was my personal favorite :)
Met Chuck Yeager's F-4 aircraft when he flew into Peterson AFB in Colorado; was hugged by General Yeager
(Hey, I read "
The Right Stuff
" .....woo hoo,Janet, that must've been an Awesome moment! :)
Janet is every bit as positive and encouraging as Terri and Cathy were. (and every bit as 'devious',ha ha....somehow, I ended up becoming the Team Co-Leader somewhere along the way, and I'm still not sure exactly how....)
And I think Janet's being a veteran brings an extra level of committment to her leadership.
The
Soldiers Angels Living Legends Team
remains a very challenging team to be a part of, and there are still days when I hang my head in sorrow and question "can I continue to do this?", after researching the life of a fallen hero, and the effects of the loss on his family and friends. (especially when there are many parallel's in that hero's life to our Own currently serving service member.)
But, God continues to give me the Grace I need, and sends me Angels like Terri, and Janet, to uphold me.
There are over 135 Angels currently on the Team. Some of them are researchers, some send cards for every fallen hero, and some send cards only on certain weeks. There are also Angels who send Remembrance cards, on the anniversary of the fallen hero's death, so the families will know their loss is not forgotten even though time has passed.
Besides sending condolence cards, the Living Legends Team also offers each family a wreath or live memorial tree, and they do things such as sending teddy bears to the young children of the fallen,to let the families know that they are supported.
This team has put us in contact with people who are towering heroes in the midst of their grief...families who, after they have laid their loved one to rest, contact us and say "I want to join this Team, to do the same for others that was done for me."
While I think each and every one of us on the team would be happy to see the day when this team would no longer be necessary? Until then....it's an honor, a blessing, and a privilege to be a part of this team.