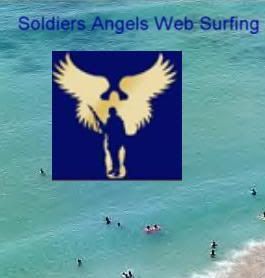 A 'surf' of the web for news by, and about,
Soldiers Angels
You can tell it's almost summer! As happens every year, we have Angels promoting
Sun Protection Care Packages for our Troops here on
The Asberry Family blog
and also here at
Beauty 4 Moms
(and I'm sure there are more posts out there)
Thank you,
Operation Mary Kay
!
Found a very nice
Book Review by Thomas Anthony Longo
of Patti Bader's book
May No Soldier Go Unloved
Welcome! to more Angel blogging at
Hudson Valley Soldiers Angels
A military mom, Linda Jewell, blogs
Support Our Troops by Praying for Soldier's Angels
and also
Support Our Troops by Modeling Troop Support to Your Children
Nice post here about
Soldiers Angels
from a blog with the awesomely wonderful name of
Bring the heat,Bring the Stupid
There's an Angel profiled at the
UnionLeader.com
in the story
Angel to her soldiers by Gretyl Macalaster
and a story about a Canadian member of Soldiers Angels here on The Windsor Star
Walk a thanks for overseas troops by Sharon Hill
That's the surf!