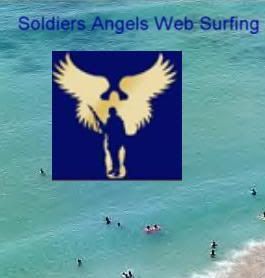 My "this used to be weekly, but now it's just...random" surf of the web for news by,
and about,
Soldiers Angels
Sadly, part of the reason for the recent lack of blogging on my part has been because the
Soldiers Angels Living Legends Team
(of which I'm the Co-Leader)
has been far more busy than we would wish to be, supporting the families of our Fallen Heroes.
The Living Legends Team supported the families of 36 Fallen Heroes in the month of May, 25 Fallen in Iraq and 11 Fallen in Afghanistan.
Thus far in the month of June? we have supported the families of 18 Fallen Heroes, 5 Fallen in Iraq and 13 Fallen in Afghanistan. (you can find out more about how the Soldiers Angels Living Legends Team supports those families, by reading about the Team on the main Soldiers Angels website
HERE
)
One of the things about being a part of this Team in Soldiers Angels that always awes me, is the parents and families of Fallen Heroes who, after being supported by this Team? contact us and ask how to join the Team so they may help support other families of our Fallen Heroes. I am always humbled, by those who choose to 'give back' in the midst of their own grief, and reach out to others.
I thought of them, when I came across this blog
Shane and Ryan's Story
and a blog post titled
The Parents Who Did Something Grand
about why this mother, who has suffered such tragedy, became a member of the
Letter Writing Team
of Soldiers Angels.
An article on the web from
Patricia Walston
at the
Atlanta Faith and Family Examiner
that has a lot to say about supporting the families of our Fallen Heroes and is well worth the read, (and also mentions Soldiers Angels) is
National Guard - Who are they? What are they. - Part Two -Georgia Fallen Heroes
A new Angel at
When I Look At My Life, The Greatest Happiness is My Family's Happiness
weighs in about supporting the Troops with this post
Want to be a Soldiers Angel?
Companies also join Soldiers Angels in supporting the Troops, check out this post
Fairytale Brownies Cares by Ellie Perry
And in Arizona? Check out this story
Valley company collects golf equipment for the troops
Lastly, for news By an Angel, read this
Citizen Journalism
story in the
Washington Times
by a freelance writer who is a member of Soldiers Angels and the USO of metropolitan Washington,D.C.
WWII vets live out their days in care home by Gayle S. Fixler
That's the surf. Until next time.....please consider checking out
Soldiers Angels
for the many, many ways you can get involved in supporting our Troops.