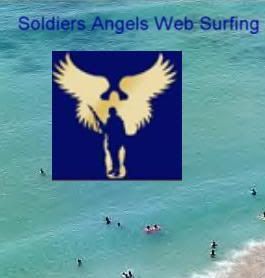 Surfing the web for news by, and about
Soldiers Angels
Welcome! to another Soldiers Angels blog
Soldiers Angels Missouri
and
Soldiers Angels New York
introduces another posting Angel
Ellie
Soldiers Angels~Wounded Warrior Support
has 2 posts about last weekend's
Face of America Bike Ride
Check out
Reflections
and
some memorable moments
Via
Soldiers Angels Louisiana
, there will be
Angels in Times Square
on May 5th!
(And Heidi Squier-Kraft will be there, if you haven't read her book
Rule Number Two: Lessons I Learned in a Combat Hospital
you should check it out)
Speaking of authors? Kristen Tsetsi, author of
Homefront
, is currently running an eBay auction to benefit Soldiers Angels......
As I Like it:Auction to benefit Soldiers Angels now Live
check out the auction
Here
and the End Time is May 9.
Soldiers Angels Texas
has
Two Thank You's for all you Texas Angels
Nice story here
Warming the wounded
Soldiers Angels Washington
posts about an upcoming
Luncheon for Jeff Bader and SFC Toby Nunn
Soldiers Angels of Alabama
is one of the many Angel blogs reminding us that
May is Military Appreciation Month
and, of course, the other big news (from, among others,
Soldiers Angels Network
) is that
Soldiers Angels Receives Combined Federal Campaign Approval
That's the surf!