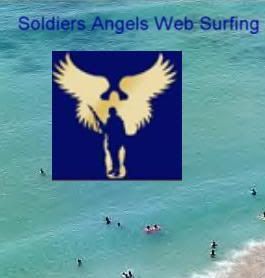 A short 'surf' of the web for news by, and about,
Soldiers Angels
While you can keep up with blog posts by many Soldiers Angels at
BlogNetNews.com/Soldiers Angels
anytime? in my travels around the web I like to highlight certain posts by Angels, or news stories About Angels.....so, here we go..........
A View From the 8th Floor
has her round-up of the 2009 Face of America bike ride
Bike Ride and Banners! Face of America 2009
(and, ahem... just want to say that I'M the mom of the 'Banner Princess' :)
and then she also has this Wonderful idea!
Now recruiting virtual members for Soldiers Angels Bethesda Lunch Team
Over at
Soldiers Angels-Wounded Warrior Support
there's a great post
Behind the Scenes
about one of our special Angels
Two nice news stories involving Soldiers Angels.......
Go,Gators! from the
University of Florida News
The Gator Nation sends the Gator spirit to American soldiers serving abroad
and from the
Portland Tribune
"From our troop to yours"
Writer Elen Grey at
Could Be A Blog
writes about being an Angel and urges others to consider doing so for National Military Appreciation Month
NMAM
and Sarah at
Come In And Sit for Awhile
posts her thoughts about the recent tragic shooting and deaths at Camp Liberty in Iraq, and also urges others to consider becoming Angels
On the topic below......
Lastly, what Happens when you become an Angel? well, sometimes, as Susan from
Susan's World
posts
I've Heard from 2 Servicemen!
(under her post about
Aprons for Afghanistan
)
That's the surf!