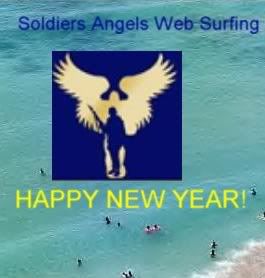 The first 2010 'surf' of the web for news by, and about,
Soldiers Angels
First of all, Happy New Year! and next, Hurray! that the number of troops waiting to be adopted on the Soldiers Angels website has finally fallen under 2,000.
Since many of them were adopted by new 'Angels', I thought I'd feature some links to blogs by new members of Soldiers Angels. (and Welcome! to both of them!)
Apropo of Nothing
(cool blog name:) posted
Soldiers Angels and NCIS Agents
Finding Family with Empty Arms
also writes about
Soldiers Angels
and the following are not 'new' Angels, but 'new-to-me' blogs by members of Soldiers Angels that I wished to share with you, because one of the joys I've found as an Angel is not only the soldiers I've gotten to know over the past 5 years? but also the many and varied Angels that you are privileged to meet along the way,too.
Grace Notes
Hidden Forest Stamping
and
Flour and Water
writes about
Goals
Short 'surf', but that's it for this week.....looking forward to sharing many more web surfs with you throughout 2010:)