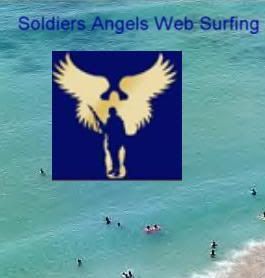 A 'surf' of the web for news by, and about,
Soldiers Angels
While there are currently 1,676 soldiers waiting for 'adoption' on the Soldiers Angels website,
there Are 'adoptions' occurring..........
here's a great story about one group that adopted a soldier and got to meet him in person, from
TheUnion.com
in California.
Angels get chance to meet 'adopted' soldier by Liz Kellar
From the Cleveland,TN
Cleveland Daily Banner
comes this story about an Assisted Living facility (
Morningside
) that 'adopted' a soldier
Morningside of Cleveland adopts a soldier at war by Jean Huddleston
Other things being done for the troops.......
up in Bay City,MI for the second year the Bay County library system hosted card making workshops for children to create Valentine's cards for our troops
Bay City children create Valentine's cards for troops at Wirt Library
which will be sent to the troops via Soldiers Angels.
and this story via
Soldiers Angels Medical Support
Another Eagle scout steps forward to help the wounded
Cooking With the Wounded
is now raising funds for a cooking event at Landstuhl, you can read more about that on the Soldiers Angels website
HERE
and, speaking of Landstuhl?(ah, those clever segues,huh?lol)
A German-American Friendship Bracelet
has
Looking back at 2009 – Soldiers' Angels at Fisher House Landstuhl
That's the surf!