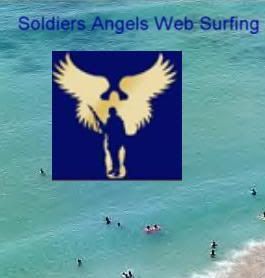 My weekly 'surf' of the web for posts by, and about,
Soldiers Angels
Holly Aho is one the many Angels passing on the news that Patti Bader, the founder of Soldiers Angels, has been nominated by her son,Brandon, in a contest for
America's Favorite Mom-Vote for Patti Bader!
(and Holly is the SA 'Blog-Mother' of so many blogging Angels....her blog is my Featured
Blog of the Week
this week :)
Holly is also one of the people interviewed on the Second
Talking with Heroes
interview from the SA Executive conference Feb.21-23, Bob from Talking With Heroes says :
"Those interviewed: Blake Powers (Laughing Wolf), Holly Aho, Lynette Ronkin, Debby Frerich, Dee Jerge The next two of the four one hour programs of interviews will air the nights of March 23rd and March 30th."
Greta of Soldiers Angels Louisiana (among her many blogs:) is busy,busy,busy tonight! with the
Big Easy Cafe Drive' This Friday Night
,here's the
Big Easy Cafe Wishlist
, and the Big Easy Cafe Project is also
in the Times-Picayune
! Wishing that project Lots of Luck!! :)
A big Welcome! to the 'just getting started"
Soldiers Angels' of Alabama
!
Soldiers Angels Texas has a
DFW Meet and Greet
...TOMORROW,March 8th! and they are also having a
Texas Garden Flag Contest
My apologies to Tanker Brothers, I'm late in passing on Aunty Brat's post
For Ellicia
Reid has thus far raised $800.00 towards his goal of $1800.00, as of this posting.
Willie at A German-American Friendship Bracelet blogged about
Money for Soldiers Angels
and the follow up to that is that $10,000.00 was raised!! Woo Hoo! as MotorcycleUSA.com reported in part of an article
Here
(and my husband particularly enjoyed the bikini contest photo,LOL:)
Butterfly Wife is
still sending cards
Tennessee Soldiers Angels VA Team posted about
National Hospitalized Veteran Salute Week
(and also check their Upcoming Events on their sidebar!)
View From the 8th Floor reports on :
Y'all,this is cool: The Resolve to Win March from SC to DC
Homefront Six picked up some
Blankets for Afghanistan
and then says
Well,poo
(which sounds So much like something I would say,LOL.....anyone got any ideas to help her out?)
A fellow Soldiers Angel on MySpace has a great post up about
Free Mail
(mail that you receive from someone deployed) and, speaking of MySpace, it's not specifically SA-related, but have you seen this?
On March 10th, 2008 Operation MySpace will bring the troops in Kuwait and all of MySpace a LIVE show in Kulabyte HD that they'll never forget. Disturbed, Pussycat Dolls, Jessica Simpson, Filter, Carlos Mencia, Metal Sanaz, DJ Z-Trip AND MORE will all be a part of this spectacular event that will be streamed LIVE only on MySpace at 11:00AM PST / 2:00 PM EST at
http://www.myspace.com/operationmyspace
Lastly, as always, Life in the Northeast posted this past Sunday for us to
Remember...
That's the 'surf' for this past week!