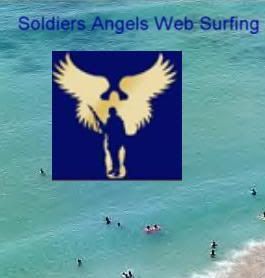 My weekly 'surf' of the blogosphere for news by, and about,
Soldiers Angels
(a little late this week,sorry! 'real life' was hectic!)

I've got Tons of stuff to pass on this week,yay :)
But First....Have you
Voted for Patti
today? Don't forget! :) She's moved up to third place, all of you Rock! (and now let's head for First Place...vote Every Day, until March 31! :) As View From the 8th Floor says
Your Mom Will Understand.Really.
Soldiers Angels Network also linked to my last week's
SA Web Surf
,Wow! Thank You!!! :)(over at my 'main blog')
and then links This news story
McPherson Sentinal's Sentinet-News
about a Witchita,KS band named "Seasons After" which is playing a benefit concert Today, with a majority of the proceeds going to Soldiers Angels! Yay:) You can find the band's MySpace profile
Here
I wanted to give a Shout Out to the
Newest 'Bama CTL
(community team leader), and I'll keep my eye out for the web site she's setting up:)
and also say hello to a New Angel
here
and to another blogger who mentions she's also an Angel,
here
Lastly, as she does every Sunday, Life in the Northeast tells us to
Remember...
And thus ends my weekly Soldiers Angels Web Surf for this past week