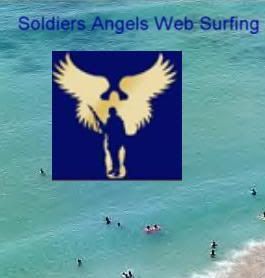 My weekly 'surf' of the web for news by, and about,
Soldiers Angels
First of all, Patti Won the Most Inspirational Mom voting in the online contest at
teleflora's America's Favorite Mom
contest....Yay!
and now, the voting continues!! this time, for the
Most Popular Mom
so,keep voting! Angels :)
-------------------------
Willie at A German-American Friendship Bracelet covers a lot here in her post
Soldiers Angels News
And Shelle at Soldiers Angels Network has the link to the
Soldiers Angels National Newsletter-April
Congratulations! are also in order for Shelle, as you can see here at
SComm E-COMMunity
she was presented "The Golden Wing" and "The Crystal Award of Excellence" awards at the National Soldiers Angels VP Conference. Way to Go, Shelle!!! :)
Shelle also posts about the previously mentioned
World T.E.A.M. Sports 2008 Face of America Bike Ride
which leads me to segue (I just love segues,lol:) into introducing a New! Soldiers Angels blogging member,LDR at
Soldiers Angels-Wounded Warrior Support
(which is also this week's featured SA Blog of the Week)
She's off to a great start! I'm looking forward to seeing her again at this year's Face of America Bike Ride, and just wanted to say Welcome! to the world of blogging!!! :)
Soldiers Angels Texas asks
Can You Spare a Dollar?
which goes along with this post by Soldiers Angels of Alabama
April Showers Bring Soldiers Dollars
(and Soldiers Angels of Alabama is also going to a
Magnolia Festival
! :)
A cool story, about some 9 year old twins who got involved with Soldiers Angels
ReporterHerald: From pen pal to honorary fireman
This new Angel is looking for some help
My first adopted soldier
Tanker Brothers has a link to a good story
In case you missed this...
Soldiers Angels Germany writes about
The Power of Love
(and I have met Robert Stokely....he is an unforgettable man, and a tower of strength. We had a few second conversation about my husband's son preparing to deploy, that still resonates in my heart. God bless and keep you, Mr. Stokely.....you have touched, and continue to touch, so Many lives. What a beautiful way for him to honor his son, Sgt. Mike Stokely.)
Soldiers Angels Louisiana remembers a fallen Louisiana Hero
Thoughts and prayers to the family of an American Hero
and Life in the Northeast posts her usual remembrance of the previous week's Fallen Heroes
Remember...
That's the 'web surf' for this past week!