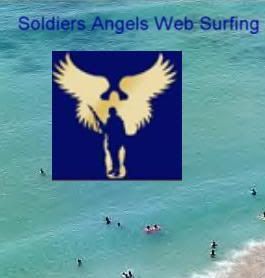 My weekly 'surf' of the web for news by, and about,
Soldiers Angels
(Hey, I'm only One Day Late in posting this week….lol…I call that progress:)
I know that my blog seems to once again just consist lately of "Wednesday Hero" posts, and "Soldiers Angels Web Surfing" posts? but, part of that is because of my work schedule lately, part of that is because...it's Spring! yay!.....and part of that is because of the new puppy in our house,"Brownie"
Isn't she a cutie? :)
Well, moving on to the 'surf'........
Starting out with a 'food' theme, Soldiers Angels Network passes on
AN ANGEL REQUEST……………….
for recipe submissions for an Angel cookbook.
And Greta talks about
Cookies for a Cause
over at Soldiers Angels Louisiana.
Cookies fit in nicely with something you can take to a recruiter's office for
Operation Recruiter Appreciation, 2008
(and there's lots of other great ideas in that post,too!)
For other posts:
The Nevada Soldiers Angels VA Team posted
Guidelines for Listening to War Veterans
and Soldiers Angels Texas posted
Now is the Time! We Need Your Help!
Soldiers Angels of Alabama had a great post that speaks for itself
How many go unloved?
Short surf this past week, but Thanks for coming along!