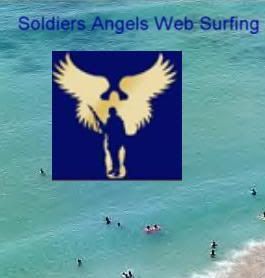 My 'normally-posted-on-Fridays,but I'm late yet again" weekly surf of the web for news by, and about,
Soldiers Angels
(for the week that just ended 4/12/08)
We'll be going all over the World on this 'web surf', because,Hey, there are members of Soldiers Angels all over the world! :) ....and a lot of them had interesting posts last week :)
Starting out here in the US......
The Michigan Soldiers Angels post about an upcoming 'Hoe Down" on Angel Updates
WYCD Hoe Down
View From the 8th Floor is helping to spread the word about the
2008 Face of America Bike Ride
Nice story about an Angel from WV
Cabell County schools employee fulfills soldier's wish for Moss jersey
Soldiers Angels New York tells us about a fundraising walk
Steps To Our Soldiers
Soldiers Angels Alabama had three posts I wanted to highlight
New clinic to treat Alabama vets with stress disorder and traumatic brain injury
What can $25,000 buy?
Welcome Home Alabama's Heroes!
Soldiers Angels Louisiana asked for help to
Send cards to a fallen LA Hero's Family
and then Greta posted some more about
Supporting the troops
on her Kiss My Gumbo blog.
And now, we go to TN, where the Tennessee Soldiers Angels VA Team posted about
TENNESSEE ANGEL OPPORTUNITIES
Soldiers Angels Texas had two posts honoring Fallen Texas Heroes:
Fallen Texas Hero
Austin, Texas Fallen Hero
and Nevada Soldiers VA Team had some great pictures of
Rub-a-dub-dub back packs
Venturing out across the World.....
Soldiers Angels Germany
F Troop deals final blow to building that set off IED
and Soldiers Angels Europe is looking for help
Wounded TLC Looking for Angels
and friend Willie at A German-American Friendship Bracelet has a
Retrospect 2008 visits to Landstuhl
and
German Dinner at the Fisher House Landstuhl
That's the end of my belated 'surf',thanks for coming along for the ride!