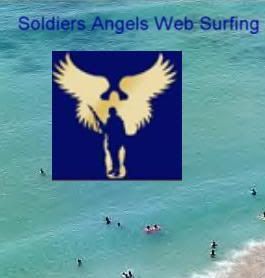 Due to a high school graduation for a cousin on Saturday, and Father's Day on Sunday, this is a Belated installment of my weekly 'surf' of the web for news by, and about, Soldiers Angels

Speaking of Father's Day? Soldiers Angels Germany has a post you won't want to miss Best Father's Day Ever

Sadly....Soldiers Angels Germany also posts about 9/11 "Truthers" harassing deployed Soldiers and Marines

but, on a happier note.....the Kodak moment of the month winner for June 2008, The Return

On that same theme.....Soldiers Angels of Alabama posts a Welcome Home

Moving on with the 'surf'....I've got 'cookie news'.....and more......


Wounded Warrior Support writes about The Power of a Cookie...

which segues nicely into this post by a 'new-to-me' Angel, Trying Our Best , who is trying to get the ball rolling on a Cookie Swap of cookie recipes. She's not only a Soldiers Angel, but also a Marine wife, who is one of a group of bloggers over at This site My Crazy Amazing Military Life


For other 'new Angel bloggers'.....'The Brat' is now blogging! over here at Assoluta Tranquillita

and there is a new site for Virginia Angels


In no particular order, some posts by veteran blogging Angels....this one from Da Goddess will warm your heart Hombrecito and the Award


Soldiers Angels Texas had an interesting D-Day story


Soldiers Angels Louisiana posted about Project seeking Veterans who are musicians

and Soldiers Angels-Medical Support wrote about Another Eagle Scout project to help our Wounded soldiers


Meet Some Angels

I came across a number of Angels featured in the news, or on blogs.

Ladies of Liberty featured Angel Colleen


The NC Asheville Citizen-Times had Meet Your Neighbor: Sherry Stokoe


A CT teenager was profiled in Local teenager raises funds to help soldiers overseas


KLTV news in TX story was Soldier's Angels Show Support To Our Troops - And They Need Your Help


and the Northwest Arkansas Times posted Volunteers repair military family's flood damage


Well, that's a lot of links for y'all to check out....Enjoy the 'surf'!