The 'webmaster' of
Milblogging.com
,that is. (And, you know what? he looks more like a
Boohbah
than I thought he would :)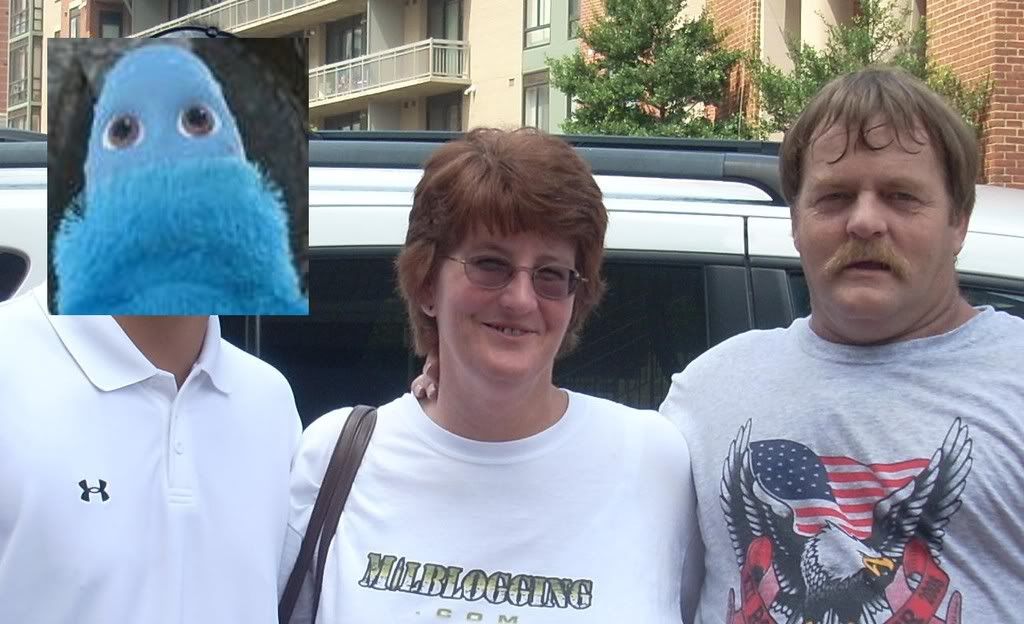 This past weekend, my husband and I had the pleasure of meeting JP and his family, and also seeing his mother again,( whom I'd met at the 2007 Milblog conference.)
(yes, JP temporarily lifted the restraining order, lol......however, he Did make sure that we met in a public place :)
Back in 2005 when I sent my first email to a blogging National Guard soldier stationed in Afghanistan, I had no clue that I'd become one of those legions of ladies who are JP's fans.....affectionately referred to as 'Crackheads', or 'Crackhead Hausfraus'.
And I could never have imagined that we'd stay in touch online over the years after his first deployment,while JP went on to found Milblogging.com and become a megastar in the Milblog world.
(I was not paid to write that....heck, JP's such a wheeler-dealer that I had to Pay, to get a Milblogging.com T-shirt :)
Seriously, when you spend several years online chatting with someone, and following the adventures of he, and his family, and his Platoon on his second deployment......and praying for him, and worrying about he and his family and platoon......I don't think I can quite describe what it feels like, to finally meet your online friend in person and give him a big ole Hug.
My husband and I had a wonderful time at the meeting, and it was a meeting filled with laughter, and talking, and More talking,lol. My husband and JP both share a snarky sense of humor, so they got along as well as I always thought they probably would.
JP and his family are just plain 'good folks'. His wife is every bit as beautiful in spirit as well as person, his sons are adorable (and yes, his youngest child Is a 'Care Bear':) and his mother has been just as supportive of Me over the past months of my stepson's deployment, as I had tried to keep her spirits up, also, while Her son was deployed.
I always say I love the Internet......but this past weekend was the real reason why I do. It's all about the People that the Internet gives you an opportunity to become close to.
It was Great, meeting the 'Webmaster of Milblogging.com" and his family:)
Thanks,JP!..... as always...dude, you rock!