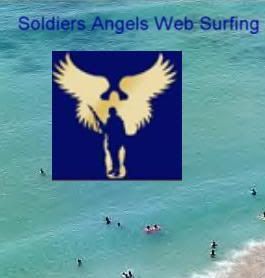 My weekly surf of the web for news by, and about,
Soldiers Angels
I start out with very sad news today, via
Soldiers Angels Germany
Recovered
The news that the bodies of Sergeant Alex Jimenez and Private Byron W. Fouty(who were kidnapped along with PFC Joseph Anzack during an ambush in May 2007),have been recovered.
Anzack's body was recovered earlier this year.
Our thoughts and prayers are with their families.
---------------------------
Life in the Northeast
posts the names of other recent Fallen Heroes in her July 5th
Remember...
Keeping the families and friends and fellow soldiers of all our Fallen Heroes in our prayers,also.
--------------
Before continuing with the 'surf', I wanted to remind you that you can always find the latest major blog posts by members of Soldiers Angels anytime at
blognetnews.com/soldiersangels
and so I have lately been altering my Soldiers Angel Web Surf to try and highlight the posts I come across by lesser known Angel bloggers.
For instance, an Angel whose blog I've mentioned before has heard from her Adopted Soldier :)
Penny Sanford
blogs
Yippee! We heard from our Adopted Soldier!
A 'new-to-me' Angel blogs about becoming a member of Soldiers Angels in this post
New Button
on her blog
All About Kimberly
and she has a brother who is currently serving in Iraq. It turns out that July 12 is his Birthday! as she posts here on His blog
http://tommienotes.com/?p=44
So why not stop by and wish her brother a Happy Birthday!
Quilts and a quilting Angel were the subject of this news article from an online TN news outlet:
Woman seeks volunteers to make quilts for wounded soldiers
and then a quilting Soldiers Angel who is retired from the Air Force and a current military wife blogs on
Sew Bee It
Quilts for the Troops
Lastly, 'Brat', posting at
Soldiers Angels New York
introduces us to a 109 year old
Every Day Hero
That's the 'surf' for this past week, thank you, as always, for taking the time to stop by and check out the links.