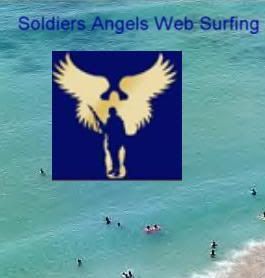 Welcome once again to my weekly surf of the web for news by, and about
Soldiers Angels
Missed passing this on for Thanksgiving, from MS Soldier's Angels/MS Soldier's Angels VA Team
Mississippi family hosts soldiers for Thanksgiving
A big Thank You, to the Chester,NJ Lions Club
Chester, NJ Lion's Club makes generous donation
(and if the name Roger Godskesen looks familiar? that's because he blogs over at
Soldiers Angels-Medical Support
)
The Valour-IT fundraising competition is over, but as NewsBlaze reminds us
Valour-IT: It isn't Over
Speaking of Valour_IT?
If you
Need to buy Christmas Cards?
Soldiers Angels Louisiana suggests Prudent Publishing,go check out Why….and a big Thank You to them,also!
SALA also posts the latest
Founder's Notes
And here's an interview with the Founder (and SFC Toby Nunn) on
Pundit Review Radio
Found this great post from a real estate blog
Please remember our troops this holiday season…how to send them a flat rate package
From Soldiers Angels Texas
Garland Texas Girl Scout troop makes "Blankets of Belief"
On a less happy note, Soldiers Angels Germany has news about donations,also
Linda's donations for Landstuhl patients stolen
and Assoluta Tranquillita has more on the story, and more links
"This wasn't just stuff…"
(From what succeeding stories and links in the posts above are saying, many people are rallying together to try and replace the stolen items….if you would like to help out in this effort, email Linda at one of the links in the stories above.)
Soldiers Angels New York posts
TAPS:For the Children
which seems particularly poignant when one thinks of two young girls who recently lost their father
Godspeed:Cpt Rob Yllescas
——————————————————-
That's all I have for this week, but with mailing deadlines fast approaching, from the Soldiers Angels website:
It's not too late to give the troops
a Happy Holiday!

Send a
care package
,
make a blanket
,
donate
in honor
of someone, or just do your
gift shopping
!