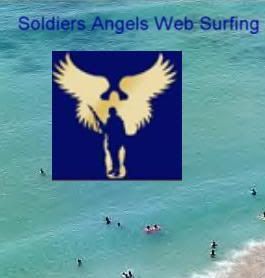 My 'sorta-weekly' surf of the web for news by, and about,
Soldiers Angels
Came across several posts by Angels I hadn't featured before, check out
Soldiers Angels
by
Jerry Sweet Sucks
and
you can't call this a coincidence
from
A Corgi in Southern California
and
Peeking and Patriotic Postcards
from
Riley Coyote CreationsSoldiers Angels Wounded Warrior Support
had a good post
One of Our Own
Nice article from the PRWeb
Veterans Airlift Command Supports the Wounded Hand-in-hand with Soldiers' Angels
Found a Great post on
Soldiers Angels Texas
Phone Calls Can Be Good or Bad (A Texas Mother's Story)
and lastly, our own Greta was featured in a news story again :) way to go, Greta!
Mandeville woman helps send a bit of home to troops
As she says, over 500 soldiers waiting for adoption.....why not stop by
www.soldiersangels.org
and see how You can get involved?
That's the 'surf' ,short and sweet this time!