I only made it to Saturday of the
2009 Milblog Conference
and it's only the 2nd conference I've been to.....but I must say, I thought it was great. Really good panels this year, particularly the one about the Veteran's issues.
And, once again proving my 'dorkiness',lol, when I got home I discovered I'd only taken about 7 pictures, and only some of those turned out ("digital immigrant",lol...if you were there, you know what I'm talkin' about:)
I envy the people who can 'tweet','live blog' And listen at the conference all at the same time, but multi-tasking is apparently not in my personal skill set.
When I went to my first conference in
2007
(back when AOL Journals still existed) I hadn't been blogging that long, so I really didn't expect anyone to recognize either me or my little blog.
Nice to know that 2 years later,lol, I Still get someone saying to me "And where would I know You from???".....ah well, I blog for the joy of it,LOL.....darn good thing I Don't blog for massive public recognition, ain't it? :)
Anyway, that at least reminds me to thank once again all 11 of my 'followers' on blogspot, plus anyone else who happens to drop by!
I also got to spend the weekend with my great friend from
View From the 8th Floor
who,like me, figured out how to be 2 places at once so that we could both attend the conference And volunteer at the Face of America bike ride (blog post about That coming later!) My weekend wouldn't have been possible without her!!! Thanks again!!
Besides the very thought-provoking panels, the other great part of the conference is getting to see folks you've talked to online and never met in person....I finally met Greta, yay!!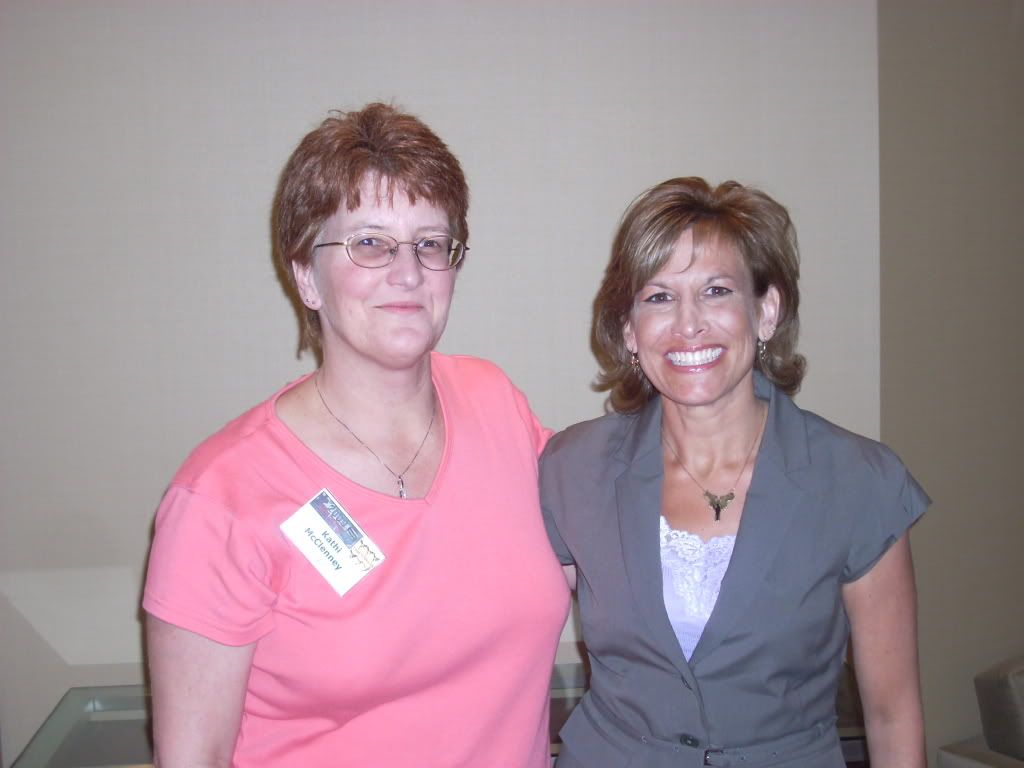 (and, as with almost everyone else I ran into, the tagline is ..."gee, you looked taller online!":)
seriously, it was So cool to meet Greta after cross-posting for so long on
Hooah Wife and Friends
and, of course, Greta also blogs at
Kiss My Gumbo
(and about 3,000 other places listed
here
....ok, maybe not 3,000, but I think she's doing nicely with her apparent plan to take over the blogosphere:) and does a gazillion things for
Soldiers Angels
, one of which is being the blog coordinator for blogging Angels.
I also got to meet my fellow JP-harasser,lol, from
Little Drops...into the Pool of Life
and give a big hug to another JP-harasser,SK.......we didn't get to spend enough time together!:(
(and of course, I also gave a big hug to
JP
, although it occurred to me later that possibly the reason he was running across the lobby was to get Away from me before I did? just kidding, he usually suspends the restrainining order for the conference,lol)
I also got to meet
Shelle
in person, and a bunch of other folks from Soldiers Angels, and managed Not to get any pictures, as usual.
I could go on and on, it was a great day, but I have laundry to do,etc, as I'll get back to the 'real world' tomorrow.
Much thanks to Andi, for putting together another great conference, and to the sponsors!! All the panels were excellent, and it was well worth the time to attend. Whether you're a 'rock star' milblogger, or just one of the 'little folks' like me? consider going to next year's conference, you won't regret it.
-------------------------------
Update: since I've now heard from both KY Woman and Lisa-in-DC, here's the pic of us together after dinner on Saturday
(That's Lisa, myself, and KY Woman L to R :)