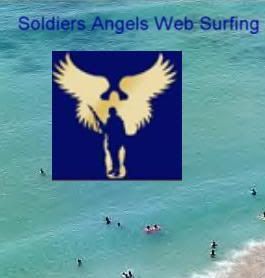 A 'surf' of the web for news by, and about,
Soldiers Angels
I'm by no means the only one 'surfing' the web for all things Soldiers Angels:) Shelle over at
Wingtip 2 Wingtip
has something cool posted
Soldiers Angels Daily Internet Flight
and both she and Greta post a lot of great links at
Soldiers Angels Network
, like this one
Detained Minors Make Cards for Soldiers Angels
and, of course, if you're looking for more Soldiers Angels news? there's always the
Soldiers Angels Blogwire
at blognetnews.com/soldiersangels
But, I still like doing my little 'surf' (mostly weekly,sometimes the work schedule and life in general interfere with posting) because I come across blogs like this Angel's blog
~From The Heart~
and I can pass on the news that
Soldiers Angels Washington
and
Soldiers Angels Oregon
are now on Facebook and Twitter:)
and while I confess that I don't 'tweet'(I know, I'm a dinosaur:) those of you who Do? may want to get in on
This
That's the surf!