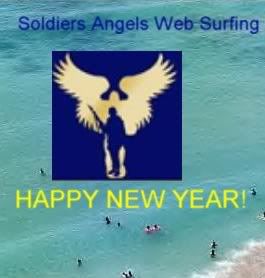 Another 'surf' of the web for news by, and about,
Soldiers Angels
At the time that I'm posting this 'web surf',
there are 2,064 troops waiting for '
adoption
'
After being a volunteer with Soldiers Angels since 2005, I know that after the holidays, there's usually a downturn in adoptions and the waiting list starts to climb....but unfortunately, this is the first year I've seen that trend start well Before the holiday season.
Times are tight, with the downturn in the economy, and while in my own house we've also had to cut back on the amount of support we can give to the troops ?
What I Do know is that we Won't stop supporting the troops, no matter how small our contribution may seem to be.
For myself and my family? volunteering with Soldiers Angels has changed our lives in ways we never could have foreseen or imagined, when I first joined . It has enriched and enhanced our lives immeasurably, through the Soldiers And Angels we've come to know along this journey.
And so, I decided that this week's 'surf' theme would be about the Angels out there that you may not have heard from.....the ordinary 'Adopters, and Bakers, and Blanket-Makers'....and maybe their stories will inspire You to consider becoming a part of Soldiers Angels.
From
The Moore American
in Oklahoma
Angel Asks for Volunteers to Support Soldiers
Leslie Chisholm
from 'over the mountain' in my own neck of the woods, asks
Want to be an Angel?
from the
Lexington Herald-Leader
in KY
Georgetown girl makes troops' holidays brighter
from
loudini.com
here in Virginia
All Around Ashburn: Hillside Elementary Helps and Hears from Overseas Heroes
From
A Little Glimpse
up in MN, comes the post
Cookies Galore
Penny Sanford Designs
talks about
The Joys of Broken Cookies
and from this link at
The World News
in Oregon (may have to scroll down)
Baker sweetens holidays for GIs
From
TribToday.com
in Ohio
Women make blankets for soldiers
and lastly, from
Dare to bee creative
in FL
Simple flowers for Soldiers Angels
Check out their stories, then check out the
Soldiers Angels website
and see the many ways you can start your own journey as a volunteer and troop supporter
That's the surf.....Happy New Year!