Well, I haven't blogged about the
2008 Milblog Conference
, which will be held as part of the
Blog World & New Media Expo Conference
in Las Vegas Sept. 20-21,2008 at the Las Vegas Convention Center........mostly because I won't be able to go!
However, that doesn't mean I shouldn't help spread the word about it!
Especially now that I saw Andi's blog post
HERE
, that once again they will be having a Baby Shower at the Milblog Conference......this time, for Joey and Jayme Bozik, who are expecting their first child, A Girl, on Christmas Eve.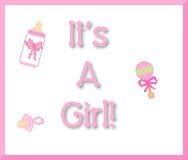 If you don't know the story of Joey and Jayme Bozik, Blackfive has posts
Here
and I found a link to a news video about Joey and Jayme's upcoming new home
http://abclocal.go.com/wtvd/story?section=news/local&id=6173189
and you can see more pics at the
Operation Coming Home blog
(and find out more about Operation Coming Home at their
Website
)
Anyway...to get back to the Baby Shower info:
If you aren't attending the MilBlog Conference, but would like to send a gift to the Boziks, they are registered at the following places:

Babies R Us
Walmart
Simple Wonders
Baby Supermall
Even though I can't go to the Milblog Conference this year.... I can sure go shopping! :)
Lastly,check the comments on
Andi's post
. , the baby's name will be
Violet Skye Bozik
So....let's go shopping to welcome Violet to the world in December!
And......please....... Spread the Word! :)