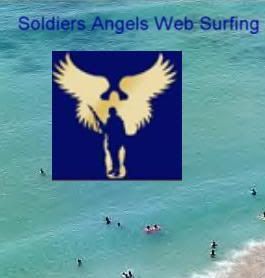 My weekly surf of the web for the past week's news by, and about,
Soldiers Angels
The story to start off with,of course, is
Patti Receives Prestigious VFW Award for Service
Congratulations! Patti!
Two other news stories worth passing on:
From the McCook<>McCook Daily Gazette
Soldiers honor local 'angels' for support of troops
and from the
Rogersville Review
in Rogersville,TN
Locals sew love into quilts for wounded soldiers
In breaking news, with New Orleans
scrambling to evacuate
Soldiers Angels Louisiana
takes time to thank the Patriot Guard Riders who are remaining to honor
SFC David J. Todd Jr.
Earlier this week on
Soldiers Angels Louisiana
, Meloney gave an update on what Acadian Soldiers Angels have been up to
SA and Bikin on the Block
Soldiers Angels Texas
says
September 13 Is the Date for Welcome Home The Troops
and also
November 5 & 6 is Houston Stand Down
Two good stories from
Soldiers Angels Germany
Vietnam Vet honors families of those serving today
and
Soldier's nonprofit group helps Georgian orphans
Talking with Heroes
show that will air on Sept. 7
Special Salute to American Military Family, LIVE Talk Show Event, Loveland, CO
will have among their guests, Jenn Page - Soldiers' Angels - Colorado VA Team Leader for the Colorado VA Hospitals Region 3 and Coordinator for the Soldiers Angels VA Teams.
From the Woodland,CA
Daily Democrat
comes the news that
'Soldiers' Angels' sets event to thank veterans
Homefront Six
has a great review of
All the Way Home
(which, btw, if you order from the Angels store
HERE
20% of each purchase goes to Soldiers Angels)
and, since we're on the subject of veterans, and a river trip? that naturally leads into the next post by a new addition to the Soldiers Angels Bloggers,
Soldiers Angels of IL
Coming Home Project Event
(And stop by and check out the whole
Soldiers Angels of IL
blog :)
To end the surf, as usual,
Life in the Northeast
posted last Sunday for us to
Remember...