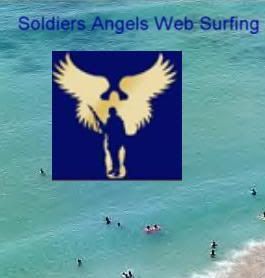 My weekly 'surf' of the web, for news by, and about Soldiers Angels


Starting out with that amazing picture from Lawn Darts, if you haven't seen it yet, please go now

Lawn Darts # 16- A Soldier's Angel Keeps Him Warm


For more beautiful things to look at, Quilter's Compass Blog has a link to pictures of 15 completed Soldier's Angels Quilts


Soldiers Angels Texas has the New Soldiers Angels PSA


and Soldiers Angels Texas also tells us Texas VA Hospital's In Need of Volunteers

Soldiers Angels Louisiana has news Blue Star Mothers hosted back to school event


MS Soldiers' Angels/MS Soldiers' Angels VA Team passes on this news Local Hero Headed Back for Surgery #20


Great post by a 'new-to-me' Angel blogger, American Soldier Supporter about What does it mean to be a Soldier's Angel?


Wingtip 2 Wingtip posts Soldier's Angels Pretty in Pink


Life in the Northeast again last Sunday asked us to Remember...and, while I wrote about the post by Soldiers Angels Germany that I blogged about yesterday
Military volunteers run burn clinic in Iraq, providing "tenderness and Tylenol"

when I cross-posted the Soldiers Angels Web Surfing on Hooah Wife and Friends (as Greta and company so graciously allow me to do every week :)
I didn't feel the need to recopy that part of the post here, as you can read it in the post below this one.

However, I Would like to extend Thanks!

to all the blogging friends who posted the news themselves, either because of MaryAnn's original post, or because they saw it on the Dawn Patrol at Mudville Gazette , or just because I mass-emailed them about it,lol :)

You all Rock!

The Thunder Run

Little Drops...Into the Pool of Life

threehourtour's blog

BostonMaggie

Deb_Inside


(and if I missed your link? please send me an email and I'll add it!)

That's the surf, for this past week!