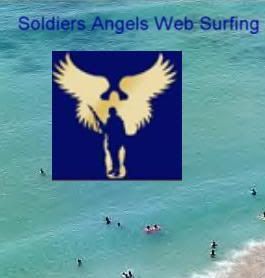 My weekly surf of the web for news by, and about, Soldiers Angels

Soldiers Angels-Medical Support posts We Need Your Help

Tennessee Soldiers Angels has a Moment of Thanks Reminder


Two items from Soldiers Angels Texas

Houston Va has opened a new domiciliary for Homeless veterans unit.

and

KBR Soldiers' Angels Supporting the Troops


Willie at A German-American Friendship Bracelet posts
News about our hero Matthew Braddock


(and be sure and check out some of Willie's other posts) like
news and stories around Soldiers Angels

or

news and stories around Walter Reed Medical Center

She does them fairly often.....good round-ups!....but you don't have to wait for me to mention them here,
if you are checking out BlogNetNews.com/Soldiers Angels at least once a day (and you Are doing that, aren't you?:)

You can find Many great Soldiers Angels posts!

Moving on....

Soldiers Angels New York tells us about the
Navy SEAL Lt. Michael P. Murphy 5K Benefit Run/Walk


Shelle Michaels is going to be one of the guests on the
TalkingWithHeroes.Com Talk Show Program on Aug. 17.


Congratulations! Chuck Ziegenfuss and Valour-IT !

Shelle posts on Wingtip 2 Wingtip Chuck Wins...


Keep My Soldier Safe, a/k/a G.R.I.T.S. has a great post (and lots of pics) about the Soldiers Angels Meet & Greet in Mississippi


A 'new-to-me' Angel who's also an author urges folks to consider adopting a soldier over at Squirrel's Treehouse


and lastly, Life in the Northeast posted as always for us to Remember...

I hope that gives you enough sites to 'surf' for the weekend!