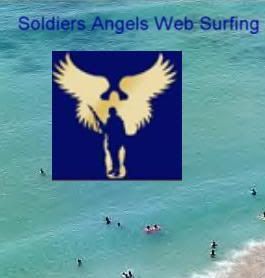 Welcome to my weekly 'surf' of the web for news by, and about,
Soldiers Angels
(The web surf was on a brief hiatus due to the fact that I primarily blogged on AOL, and AOL decided to shut their blog service down...oy! had to save two years of blog postings! I've moved my primary blog over to Blogger now,
Mail Call! Supporting the Troops
and archived all my previous blog posts from the AOL blog.)
I decided not to go back over two weeks worth of posts by or about Soldiers Angels that I thought were worth passing on, but will just take a quick look at the previous week's postings that I thought you might enjoy checking out.....so, without further ado...
Soldiers Angels Connecticut
is posting,I don't recall mentioning this blog before, so please stop by there :)
Soldiers Angels Lousiana
tells us about
The power of a blog
don't miss that one!
Wendy's Wonderings
wrote about
A New SA Cookbook
Willie at
A German-American Friendship Bracelet
posted about
Oktoberfest
and also about
a
Blankets of Hope Visit to a VA Hospital in Tampa,FL
Soldiers Angels Germany
posted
The DJ Emery Highway
The Soldiers Angels
October newsletter link
is courtesy of
Soldiers Angels Network
And don't forget the link for the
Soldiers Angels Convention
which will be July 23-26,2009.
That's the surf!