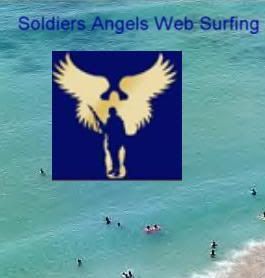 Another weekly 'surf' of the web, for posts of interest by, and about
Soldiers Angels
First of all, don't forget! Soldiers Angels needs your help for
Wrapped in Holiday Spirit
Speaking of blankets.....good story from the Lake County Journal in Illinois
Area Residents Make Blankets for Soldiers
From
Soldiers Angels Germany
comes this post
Angels Watching Over My Boy
Soldiers Angels New York
writes about
Marine Corps Marathon-Special Runners
(and there's another post about the MCM
HERE
)
Soldiers Angels Louisiana tells us what's
In the Louisiana News
Have you seen this story?
Quadriplegic Veteran Plans Adventurous Trek
Soldiers Angels is one of the sponsors of Paul Christian's journey, and you can follow him at
Seize Adventure
Soldiers Angels Network
links to a story about
one everyday Angel
and there's an orthodontist from my state :) who's buying candy from his patients and
plans to send the money to Soldiers Angels
And
Whimsical Thoughts
led me to
Everlasting Scraps
....TWO new Angels to the
Cards Plus Team
.....yay! and Welcome! :)
Also wanted to give a Welcome! to the new blog from
Soldiers Angels Washington
That's the surf for this week!
(cross-posted at
Hooah Wife and Friends
,where I get to hang out with the 'cool kids',lol,
and also on
MySpace
)