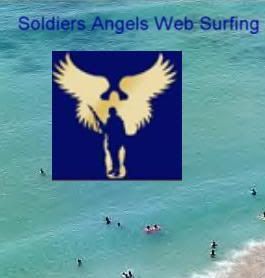 My
"this used to be a weekly feature, but now you just never know when you'll see me post this"(
LOL)
"surf" of the web for posts and news by, and about
Soldiers Angels
First up, I guess I've been 'out of the loop' again, as I don't recall passing on these 2 websites....check out
soldiers angels oregon
good stuff over there, like
Today was that day...
and then, via
Bag Blog:SA paintings
I was asking myself the question "card contest?" which led me to
THIS
(a card contest that, of course, never showed up previously in my Google alerts,sigh, and is already ended....) However, now we know that there's a website for
Soldiers Angels Colorado Region
Yay:)
For other cool stuff that's out there on the web........
From
Soldiers Angels Texas
DFW Angels Welcome Troops Home
Via
Soldiers Angels Washington
Phoenix Chili Cookoff & Music Festival
The Beasley & Wright Family Blog
gives us their
Soldiers Angels Update
Sarah Way Down South
says in part of
This Post
Soldiers Angels-Adopt A Soldier "Again, I just want to encourage everyone I know to do this if you can and if you can't, there are some other ways to contribute. I adopted my soldier, last week, and got his package in the mail, today! It's not terribly expensive and it would be a great project if you're a teacher, Sunday School teacher, or even a mom or dad and want to get your kids involved! We owe these guys and girls so much, it's the least we can do, right?"
Bless you, Sarah!! and Welcome to Soldiers Angels!
and another new Angel at
Balance My Chaos
has a Great first letter to her newly-adopted soldier
Letter to a soldier
Welcome! also, to Kim, and "Happy Angeling" :)
Lastly, from AFGHANISTANSHRUGGED.COM get a cool shirt and also help support Soldiers Angels
Vampire ETT wants YOU!
And remember, you can always look for Soldiers Angels news at
Soldiers Angels Blogwire
on blognetnews.com/soldiersangels
That's the 'surf'!