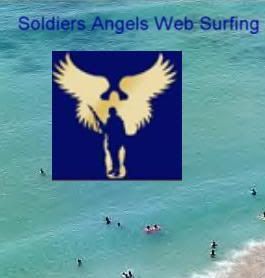 My "let's face it, there's no rhyme or reason anymore to when I post this":)
surf of the web for news by, and about
Soldiers Angels
Short 'surf' this week,
remember you can get all the latest Soldiers Angels blog news Anytime at
Blognetnews.com/soldiersangels
A couple of blog posts I especially wanted to highlight:
Brat poured her heart into this one, in honor of a Fallen Hero, over at
Soldiers Angels New York
Sean Diamond-One of the Chosen Ones
On
View from the 8th Floor
, there's a post about the film
Brothers at War
"Brothers at War"--A 'must-see' documentary
which garnered a comment from one of the film's directors of photography, so she posted a follow-up
More on "Brothers at War"-updated
Angel Tawnya has good news at
Insanity isn't the disease, it's the symptom
Some really cool stuff....
Congrats!Tawnya:)
Two posts in the news about Soldiers Angels:
From wmbb.com in FL
Returning Soldiers Treated to Cookout & Celebration
and lastly, while Soldiers Angels is NOT a 'dating service'....sometimes, connections just happen,
and this was a nice story to read from
The Grand Rapids News
via Mlive.com:
Class writes soldiers, teacher gets pen pal of her dreams: Air Force sergeant from Grand Rapids
(Editor's note: while we certainly need folks to become 'Angels' to 'adopt' servicemembers? If you are joining with hopes of 'meeting someone', the above story is the Exception, not the norm.)
Well, that's the 'surf'!
(cross-posted, as usual, over at
Hooah Wife and Friends
.....a way cooler blog than mine,where they graciously let me post the Soldiers Angels Web Surfing:)