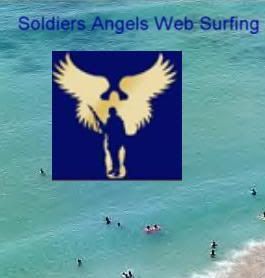 'Surfing' the web for news by, and about,
Soldiers Angels
Soldiers Angels Washington
reports
Phoenix Chili Cook Off a Great Success!
(great pics)
and there's another Cook Off coming up,
Dick's Chili World
reports the
1st Soldiers Angels District Cook Off
coming up May 9 in Webster,MA (scroll down in the post to find the info about it)
Soldiers Angels Washington
Also posts
April is the Month of the Military Child
Soldiers Angels of IL
is looking ahead to July, and the
Save a Pet Poker Run
Soldiers Angels New York
shows us some
Every Day Heroes
Soldiers Angels Network
posts about
A very 'sweet' Angel in the news
On the California Repertory blog
Cal Rep
was this post
Up Next: "And the War Came"
which says
"Cal Rep at The Armory has partnered with Soldiers' Angels to bring donated items to the families of our troops.
Help us make a difference in their lives.
Bring a donated item to the show and enter for a chance to win a dinner for two at The Starling Diner!"
The Show runs April 24th - May 9th, 2009 and I found this, about the play
According to Lauren Morris, director of marketing for Cal Rep, the production is based on interviews with men and women serving in the Iraq war. CSULB students with Master of Fine Arts degrees and in the theatre and dramatic writing program wrote the script.
"The focus of the stories in the play is not on the Iraq war itself, but on the effects of the war on family members here at home," Morris said.
Joanne Gordon, chair of the theater department, is the play's creator and director. She was inspired to make this production due to Cal Rep's connection with the National Guard at the Armory, she said.
I'm sure you've seen that
Soldiers' Angels
is partnering with the acclaimed new documentary
Brothers at War
Miss Ladybug
has a very good review of it
HERE
and in this story from the
California Chronicle
Rademacher Gets Hero's Welcome From Native Decatur for Film 'Brothers at War'
Angel Gloria Spinner gets a mention:)
That's the 'surf'!
and, if you want More Soldiers Angels news anytime?
check out
Soldiers Angels Blogwire
at BlogNetNews!