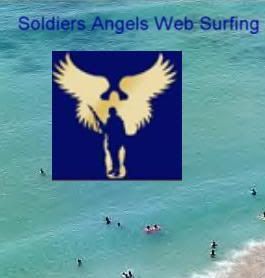 Welcome to another weekly edition of Soldiers Angels Web Surfing, for news by, and about, Soldiers Angels

Starting out this week with Soldiers Angels of Alabama , who tells us What Soldiers Angels means to me

Then Life in the Northeast , who always writes the Remember… posts, talks about what a difference Soldiers Angels can make to the deployed soldier Soldiers Angels

Hooah Wife and Friends inestimable 'Princess of Positive' has a link to the video of the opening of the Big Easy Cafe on Kiss My Gumbo

and then here is the link to the interview she mentions on WWLTV in the above blog post Mother helps bring taste of N.O. to son in Iraq

Other great posts!

Check out A new angel gets her wings by Greta on Soldiers Angels Louisiana

and also A simple thank you means so much

Soldiers Angels Network posts about the Soldiers Angels Cookie Book

gives a book review

and reminds us about writing patients in Germany

Soldiers Angels Texas has the Texas Garden Flag Design Winner!

Ballseye's Boomers has adopted a new soldier

and The Bells and Whistles of Me started out adopting one soldier , has picked up 2 more, and is spreading the 'adoption bug' to friends!

A Soldiers Angel in Bakersfield posts Be an Angel for a Marine here in B-town on the Southwest Voice website.

and lastly, mr.blackandwhite posts,among other things, about the need for cooling scarves in Help somebody this weekend

That's the 'surf' for this past week!