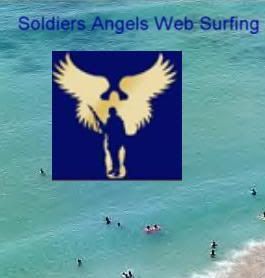 First web 'surf' of 2008! and I have some Great posts by and about
Soldiers Angels
to pass on!
This post by
Soldiers Angels Germany
sent me to Blackfive, for a story that is ....just go read (and take some tissues)
Click here: BLACKFIVE: Operation Puppy Love - Bringing DJ Home
Soldiers Angels VA Team gives us the
Final Tally on the Hugs for Heroes Project
Wonderful!!
Here's a Contest you might want to enter!
Click here: Information Dissemination: Project Valour-IT 2007 Fund Drive Contest
Just...way cool!
Click here: SOLDIERS' ANGELS TEXAS: Outstanding Display of Patriotism
Butterfly Wife is The Penultimate Card Sender!!
Phew! Just made the Deadline
And, I always love to come across 'new-to-me' blogging Angels :)
I'm One of Charlie's Angels
and
Letters to Phyllis
Short 'surf' this Friday, since I got an
End of Year
surf in earlier this week.
Happy 2008!