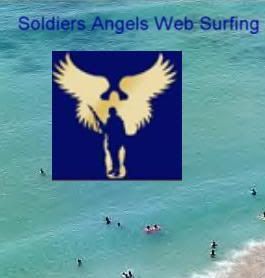 For the past week, ending 1/19/08, because Yikes! I am abysmally behind on blogging...that pesky 'real life' thing has intruded on my computer time,LOL.
There is Exciting News! via the Soldiers Angels Newsletter received this weekend....In response to the calls going out for Angels, (see my
Could You Be An Angel?
post)....Last week saw a Record-Breaking week of Angel Adoptions, by both old and new Angels.....Yay!!
For other news by and about
Soldiers Angels
last week........
Soldiers Angels Texas had a video retrospective of
2007 Meet and Greet
welcoming home troops at DFW.
Soldiers Angels Louisiana had a
Garden Flag Challenge
for Louisiana Angels.
And Soldiers Angels New York posted about
A New York National Guard unit
that is deploying, and then posted about their
Send-Off Dinner
Lastly, if you want to meet one of those previously mentioned "Brand New Angels"? check out
life with Aiden Kai
That's it,folks! hope you enjoy the 'surf' and sorry it took me so long to get it posted!
(crossposted, as always, from
my 'real blog'