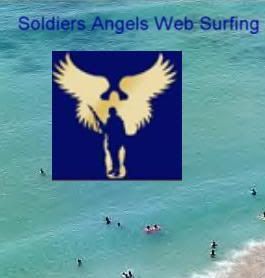 My weekly post of news by and about
Soldiers Angels
in the blogosphere.
I was hanging tight on posting this, hoping to get a link, but I still haven't seen one. This was the big Soldiers Angels news this past week,via Soldiers Angels Network :)
Glenn Beck Honors Patti Patton-Bader
and Other big news, just released today via Holly Aho
Listen on the Internet to Key Soldiers Angels Leadership
Soldiers Angels Texas asks
Have you shopped the Angel Store?
and also reminds us of
Other Ways to Help Soldiers Angels
This Angel celebrates
A Red-Letter Read Letter Day
, which, as any member of Soldiers Angels will tell you, means "Free Mail!" (mail received from someone who is deployed:)
That post reminded me to tell y'all that I also got some 'Free Mail' this past week,(Woo Hoo!:) from a female Sgt. that I've corresponded with sporadically. And I wanted to quote part of what she wrote here:
" Mail is so fun. Makes you forget you are here for a minute."
( a glaringly obvious nudge from me,LOL, to urge you to Please Consider being a Member of
Soldiers Angels
, and sending some of that 'Fun Mail' yourself,to those who are serving our country!:)
That's the 'surf' for this past week, short but sweet...and this coming week's featured blog will be
Soldiers's Angels VA Team
Wishing everyone a great weekend! and "Happy Angeling" !
(cross posted from my '
real blog
' ,lol, to quote
a friend of mine
.....and also cross-posted
here
,
here
,and
there
....because I'm just tryin' to keep up with
Greta
, who's coming along nicely in her plan for world domination by posting even More places than I do :)