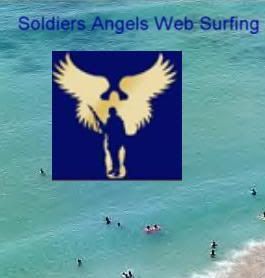 Another weekly surf of the web for news by, and about,
Soldiers Angels
Greta
isn't the only blogger we know who will be attending the
2008 Soldiers Angels Benefit Gala
in DC on Nov.6........Paul from
Seize Adventure
is another who will be there.
Can't attend myself....but can't wait to see the posts about this Afterwards!
Greta also checks in via
Soldiers Angels Louisiana
with a great link to a story about
Helping Wounded Soldiers
and
View From the 8th Floor
posts
Operation Fresh Air 2008-Part IV
Willie at
A German-American Friendship Bracelet
also posts about helping the Wounded
Helping the sick and the injured ,Soldiers' Angels bring necessities, cheer to recovering war wounded
and MaryAnn from
Soldiers Angels Germany
writes about a Thank You note from a former Landstuhl patient
"This blanket is proof that there are still many back home that love and support us."
That leads to
Soldiers Angels Texas
reminder about blankets
Wrapped in Holiday Spirit
and now that we're on the subject of the holidays,Greta also has a post
$18.75 purchases a holiday package for a soldier
and this Angel at
American Soldier Supporter
says Happy Halloween! and then reminds us of all the many ways we can
support our troops for the holidays through Soldiers Angels
Soldiers Angels Washington
posts about the holidays,also
Operation Adopt a Puget Sound Vet/Fisher House Family Fill a Stocking!
That's all for this week's surf!