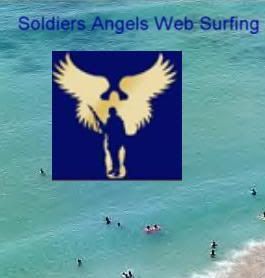 Welcome to another weekly surf of the web for news by, and about,
Soldiers Angels
As the
Valour-IT
fundraiser comes to a close,
the Valour-IT blog has
Preliminary Totals
Soldiers Angels-Wounded Warrior Support
gave thanks for many things with
On a personal note
Assoluta Tranquillita
honors another of her
Every Day Heroes
Kansas City Soldiers Angels had a Wrapped in Holiday Spirit Workday, with pictures featured on
KansasCity.com Community Faces
NorthwestVoice.com has a great story about
Soldiers Angels at Olive Drive Elementary
Shaunn wearing his Soldier's Angels beenie...
comes from
Soldiers Angels Network
.
Two stories from
Soldiers Angels Texas
Clicks Monday Night Pool League Donates to Texas VA Team
and
Gunter Texas Boy Scouts Support "Holidays for Heroes"
Lastly, Tommie and The Bartender from
95.3 WAOR
in South Bend,IN say
We're Thankful for Soldiers Angels
and check out their usPod in their right sidebar, for their interviews with Patti Patton-Bader and Toby Nunn.(easy to find,they're listed under "Soldiers Angels" # 5 and # 6 on the usPod.)
That's my 'surf' for the past week!