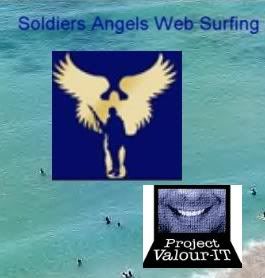 Welcome to my weekly surf of the web for news by, and about
Soldiers Angels
I've changed my 'web surf' pic this week to remind you that fundraising is still going on for the
Soldiers Angels Project Valour-IT
There are many, many bloggers joining in spreading the word, and they've each joined a different 'Team' representing the branches of the Armed Forces, so I thought I'd highlight a post from a blogger from each of the Teams.
Soldiers Angels New York
has a post up for the Air Force Team
here
Miss Ladybug
posts for Team Army
here
Boston Maggie
takes a swipe at the Air Force team on behalf of Team Navy
here
(and she's scary-good at tricking people into joining the Navy Team,lol...she almost got me signed up on Facebook, until I realized 'wait, you don't spell Army N-A-V-Y!':)
CG Blog (An UNofficial Coast Guard Blog)
tells us the Coasties are lagging behind, but still hanging in there......
here
And
Soldiers Angels Germany
comes in with a blog post for the Marines that had me cracking up
here
The competition is all in good fun, and the money all goes to the same place in the end.(although my heart lies with 'Go,Team Army'! just in case you haven't picked a Team to donate through yet...I'm just sayin:)
In other places to visit on this web surf...........
Soldiers Angels Network
has a post up about another very worthy cause to support.....
Operation Survivor from Survivor Corps
An Awesome Stamper and New Adopter of a Soldier has a great post
here
This Angel has a wonderful story about
The Best Veteran's Day Ever
Soldiers Angels Louisiana
has some great links to check out in
Louisiana news
The Soldiers Angels November newsletter link can be found
Here
And I close with this post from Ladies of Liberty
Happy Thanksgiving from Soldiers Angels
That's the surf!