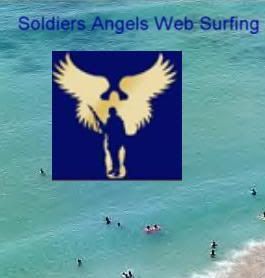 My weekly 'surf' of the web for news by, and about,
Soldiers Angels
Fuzzilicious Thinking
suggests what to do with
leftover Halloween candy
Soldiers Angels Louisiana
has a great story about
New Orleans Elks Lodge #30
Tawnya of
Insanity Isn't a Disease,It's a Symptom
(another former AOL blogger who's relocated to Blogger after AOL shut down their blog server)
talks about
Coming Up on Veteran's Day....
Over at
Weapons of Mass Discussion
, they're also talking about Veteran's Day with a release about
Project Promise
(part of the proceeds will benefit Valour-IT)
and the mention of
Valour-IT
segues nicely into this from Soldiers Angels Network
Wii for the Wounded?!
and now.....some posts about the recent Soldiers Angels Gala held in DC on Nov.6.
Greta blogs
Greetings from DC
via
Kiss My Gumbo
Paul from
Seize Adventure
has a
Soldiers Angels Gala Update
NewsBlaze
has a wrap-up
Soldiers Angels Honors Heroes,Al Hunt Honors Soldiers Angels
Lastly,
Wingtip 2 Wingtip
has a post
Republicans and Democrats joined hands across the aisle to assist Soldiers' Angels
with the promise of more to come,
and also check out her biographies of the speakers that night
House Minority Whip Roy Blunt (Rep-MO)
and
Admiral Mike Mullen- Chairman of Joint Chiefs of Staff
That's the surf for this past week!